Talks

2021
2020
2019
2018
All
2021
June 10, 2021
#COVIDUnknowns: Vaccine Passports and Credentials
On invitation from the BMJ, I reflected on the increasing trend of digital infrastructure being used for pandemic response in India.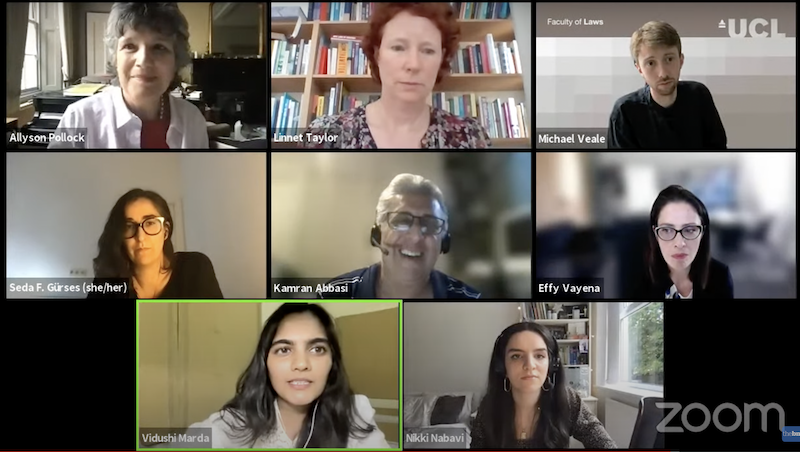 May 20, 2021
Civil Society in AI Governance: Lessons Learned
At this year's Data Justice Conference, I joined Corinne Cath-Speth, Frederike Kaltheneur, and Fieke Jansen to discuss lessons learned from researching and advancing AI governance and advocacy in Europe, North America, South and South-East Asia.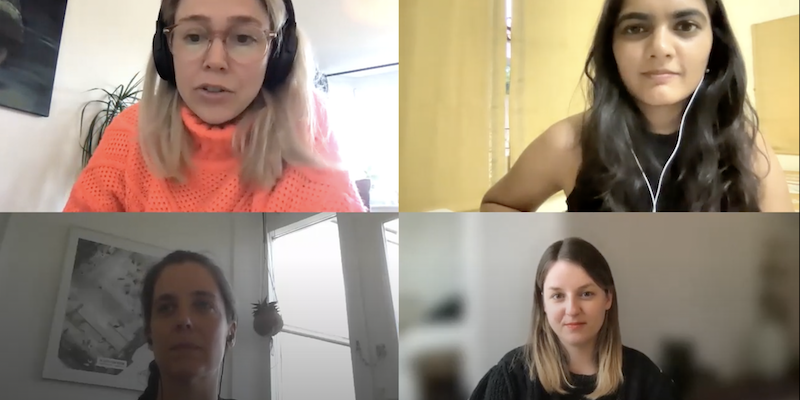 May 19, 2021
AI Ethics and Responsible AI
On invitation from RIS, I spoke about what "Responsible AI" could and should look like. My intervention begins at 1:39:50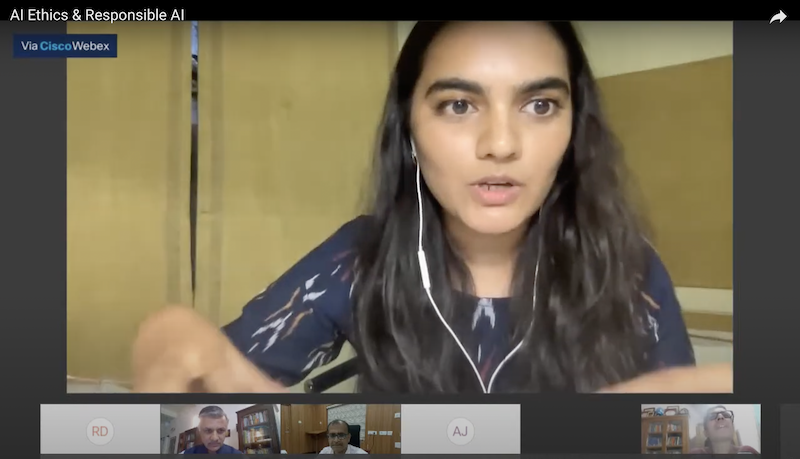 May 07, 2021
3rd Workshop on Obfuscation: Face-veillance
On this panel, I joined Annelies Moors, Lujo Bauer, and Annemiek Van Boeijen to discuss the politics of the face and identity, and what we have learned about resisting technologies like face recognition.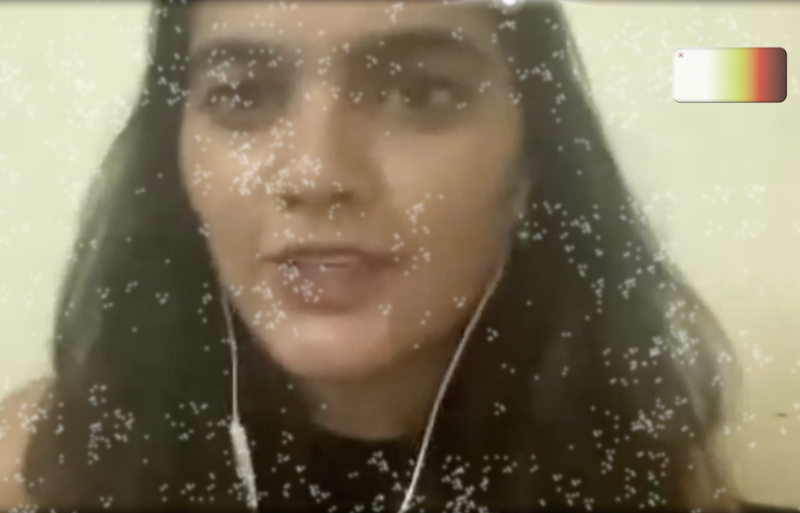 March 24, 2021
Guest Lecture: IIM Indore
Drawing from ethnographic research and my policy experience, this talk reflected on the process and practice of machine learning, while highlighting the key ethical and legal challenges at play.
March 19, 2021
Personal Autonomy and Rights in the Digital Age
On invitation from Ashoka University, I discuss the surveillance economy and its impact on personal autonomy. The discussion begins at 35:05.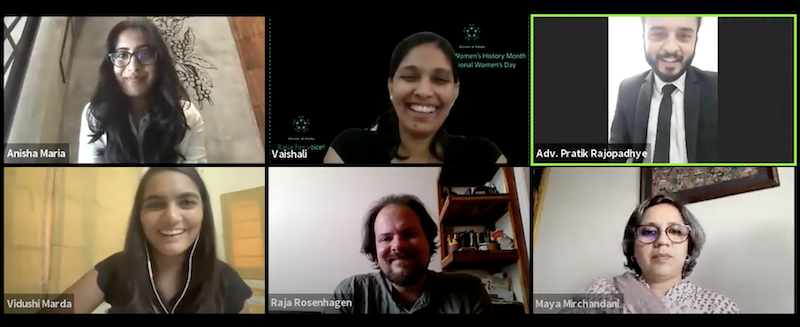 March 19, 2021
Lunch Talk: University of California, Berkeley Law
This lunch talk focused on the need to ground AI research in the communities and societies in which systems are deployed, we also discussed strategies for growing as a researcher in the field, career paths, and much more!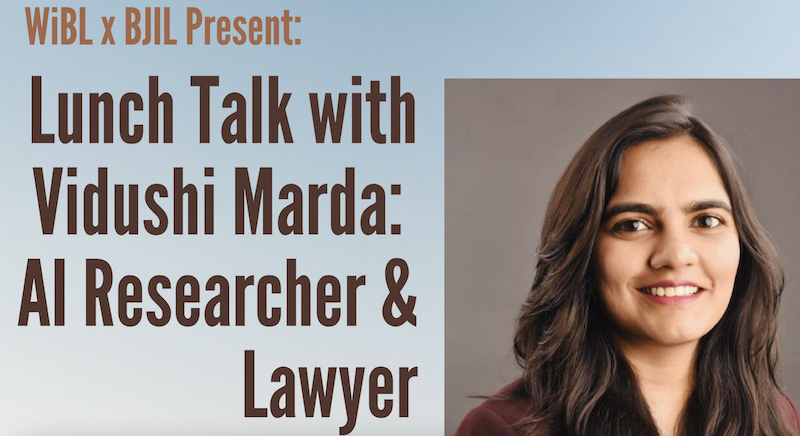 March 15, 2021
AI Bias Beyond the Western Lens
At MozFest 2021, I joined Gaurav Jain, Smriti Parsheera and Amba Kak to discuss AI Governance in the Indian context.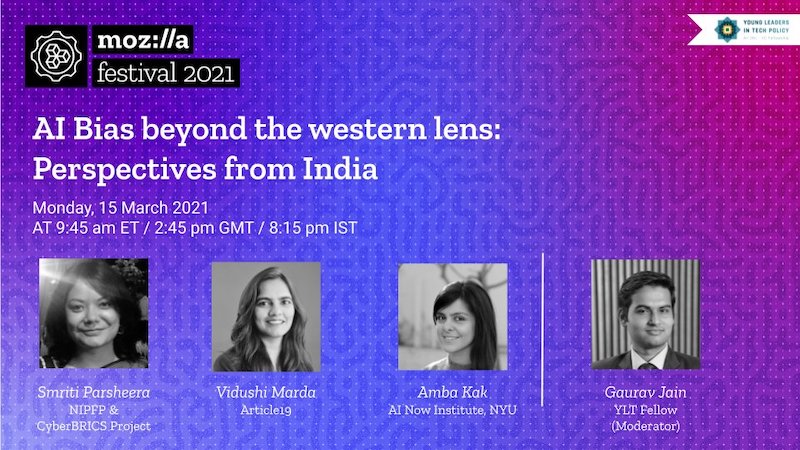 March 10, 2021
ACM FaccT 2021 : The Future is up for Grabs
At this year's Facct Conference, I joined Alix Dunn, Cori Crider and Sasha Costanza-Shock for a plenary panel discussion.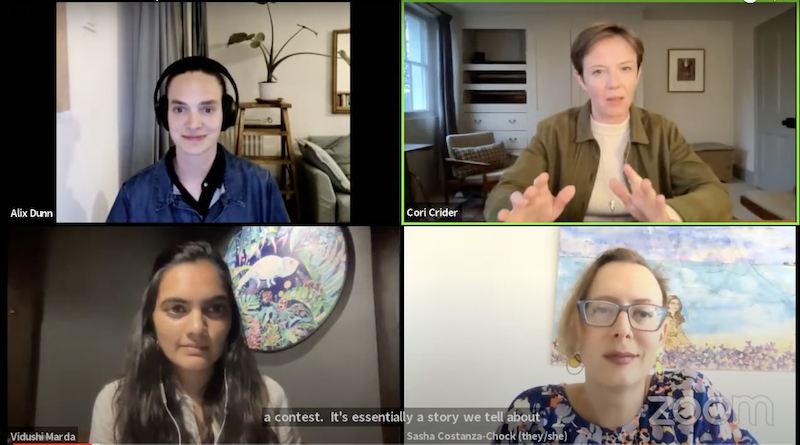 March 04, 2021
Implications Tutorial: AI on the Ground Approach
I joined Noopur Raval, Ranjit Singh, and Radhika Radhakrishnan at the 2021 edition of ACM FAccT to discuss the politics of studying up in AI research, and the need for context-driven approaches to articulating AI's societal impact.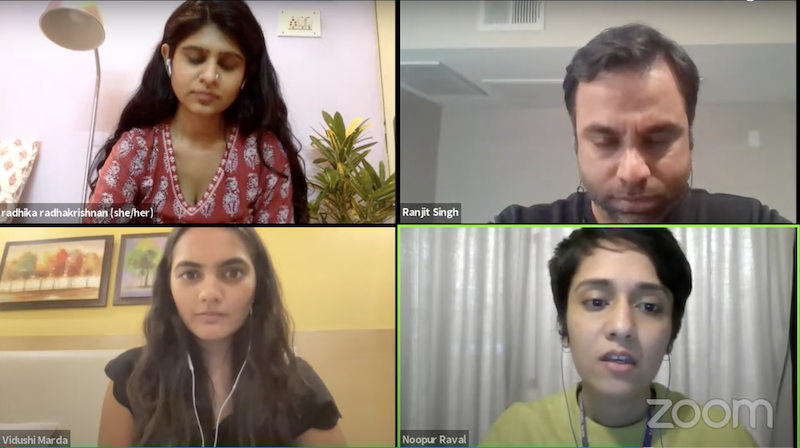 February 02, 2021
Kerala Looks Ahead: E-Governance
The Government of Kerala organised the 1st edition of "Kerala Looks Ahead", a conference and consultation focusing on policy areas critical to Kerala's economic future. My intervention starts at 3:13:32.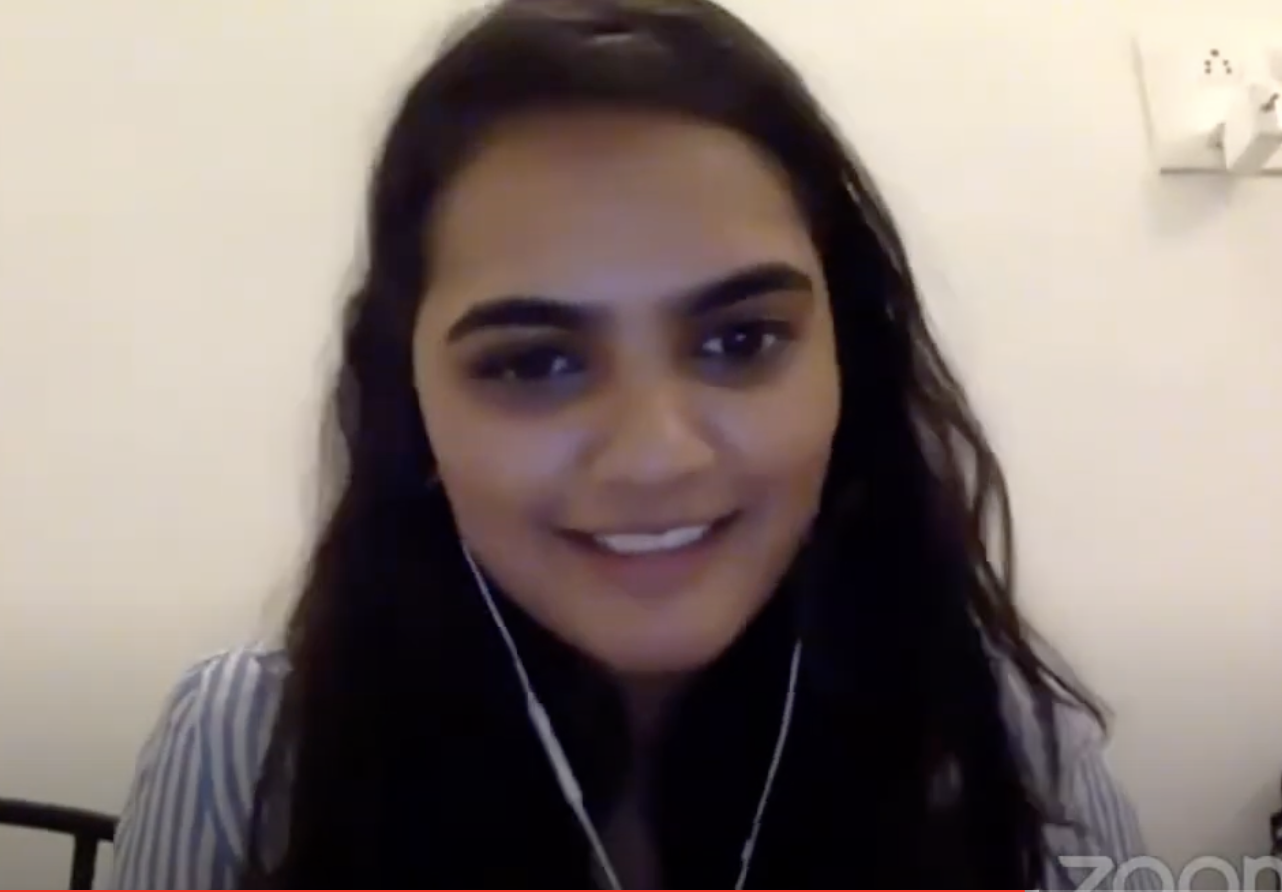 Show more
---
2020
December 18, 2020
Can Excel Sheets have Ethics?
On invitation from Tandem research, I discuss the challenges of a risk-based approach vis-a-vis a rights based approach to regulating AI.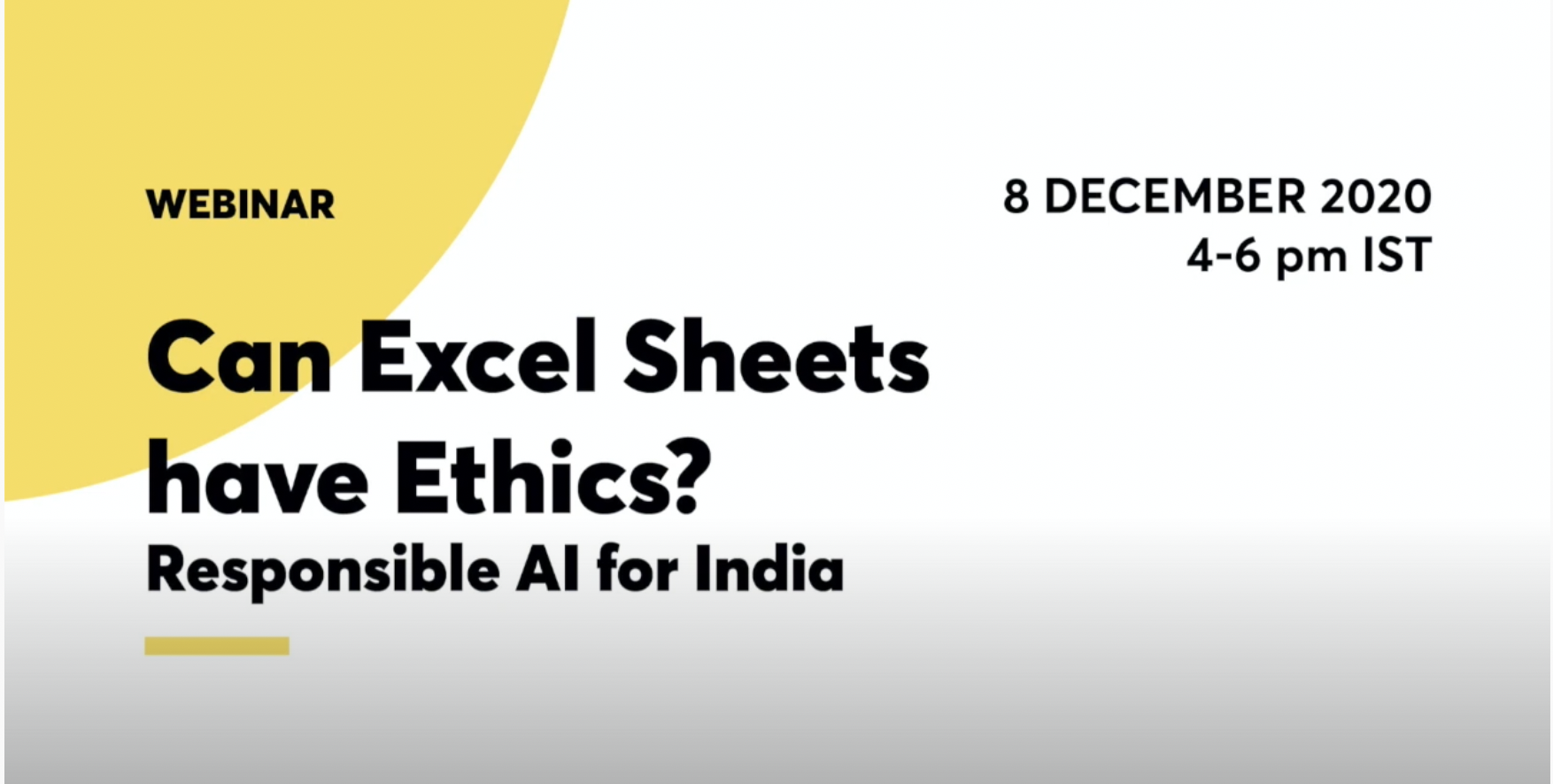 December 11, 2020
Resistance AI Workshop @NeurIPS
I joined Seeta Pena Gangadharan, Mariella Saba, Hamid Khan and Biju Matthew at the first Resistance AI workshop at NeurIPS 2020 to discuss the ways AI currently concentrates power.
December 09, 2020
EU-NGO Forum: Addressing Artificial Intelligence Harms
I joined Sarah Chander, Beg Wagner, Andrea Renda, Dafna Feinholz, and Juha Heikkila at this panel to discuss International efforts aimed at regulating AI.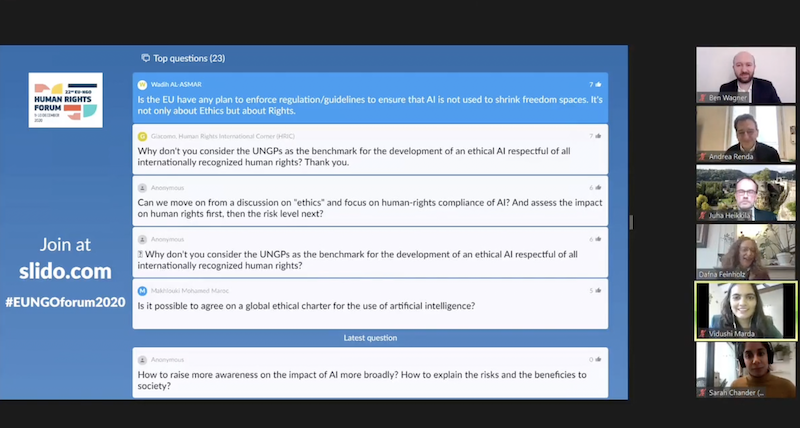 November 27, 2020
Should India Ban Facial Recognition?
Against the backdrop of IFF's Project Panoptic, I joined Anushka Jain, Nirmal John and Mutale Nkonde to discuss strategic and legal approaches to facial recognition use in India and beyond.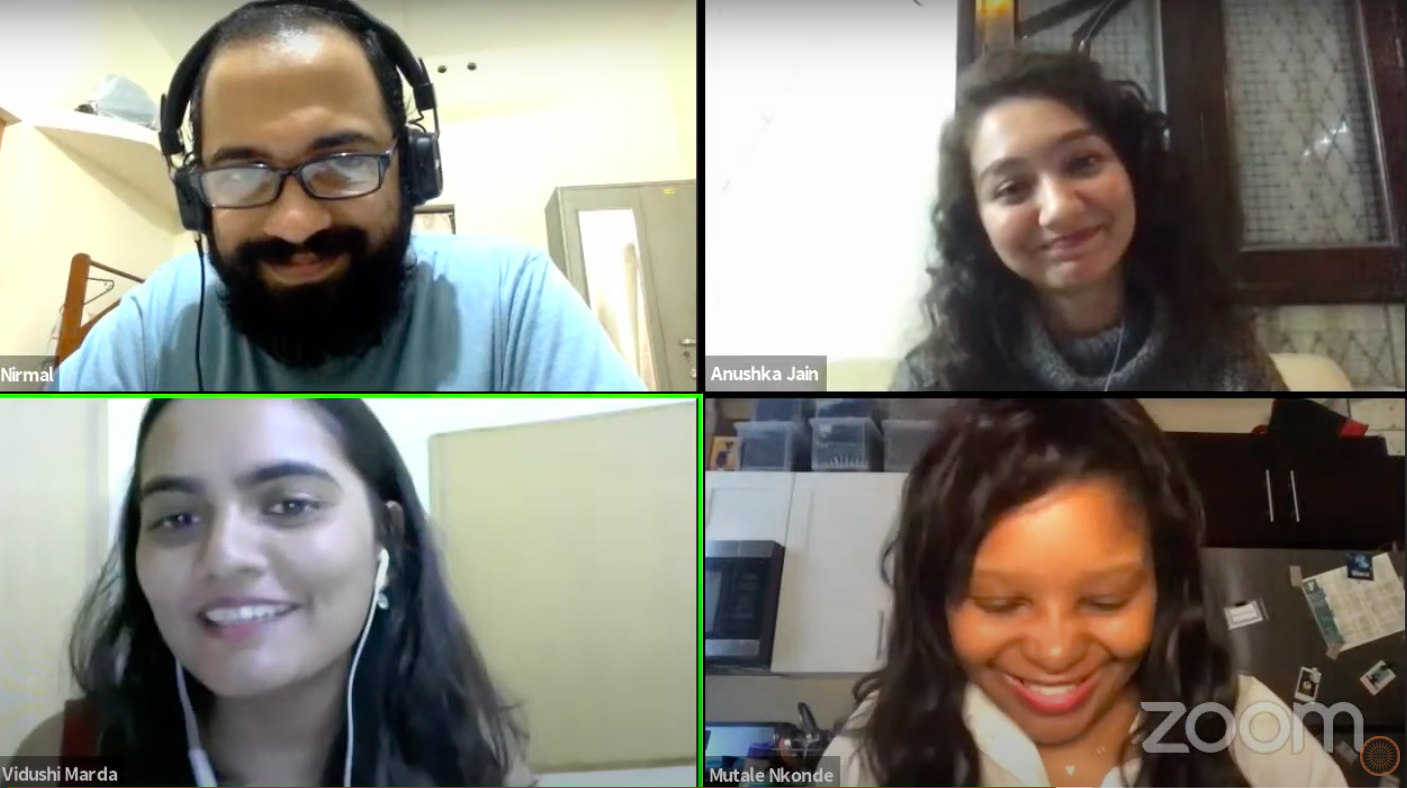 November 19, 2020
Guest Lecture: IIIT- B
My talk was titled, "Piercing the veil of ethical AI". Here, I focused on the need for a holistic regulatory approach to governing AI.
September 23, 2020
Data Justice and COVID-19 Book Launch
I joined Carly Kind, Linnet Taylor and Karen Yeung at the book launch of "Data Justice and COVID-19" to discuss the enduring impact of COVID-19 crisis on surveillance practices.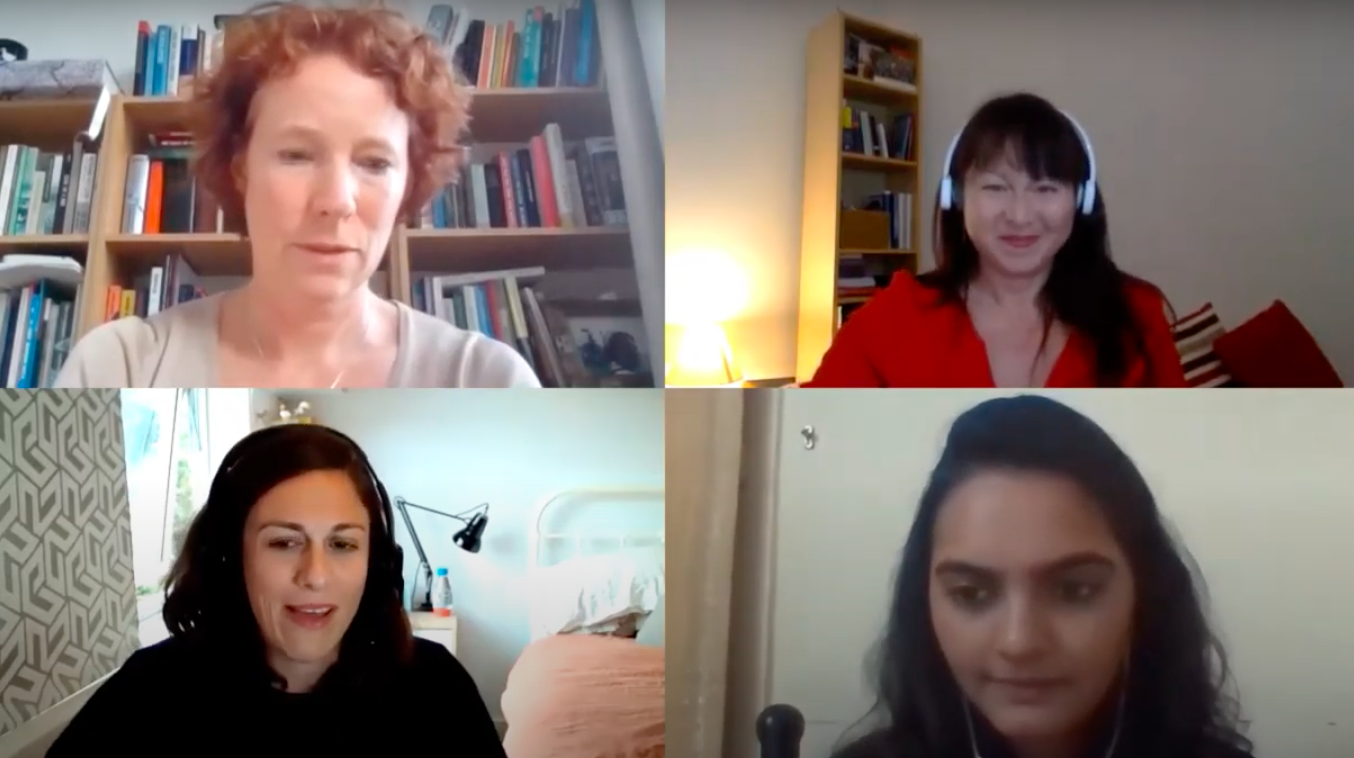 August 24, 2020
Policing In Modern India: Technology and Responsibility
Organised by Carnegie India, I joined this conversation on the growing role of technology in Indian law enforcement agencies. I drew from research on New Delhi's predictive policing system, CMAPS.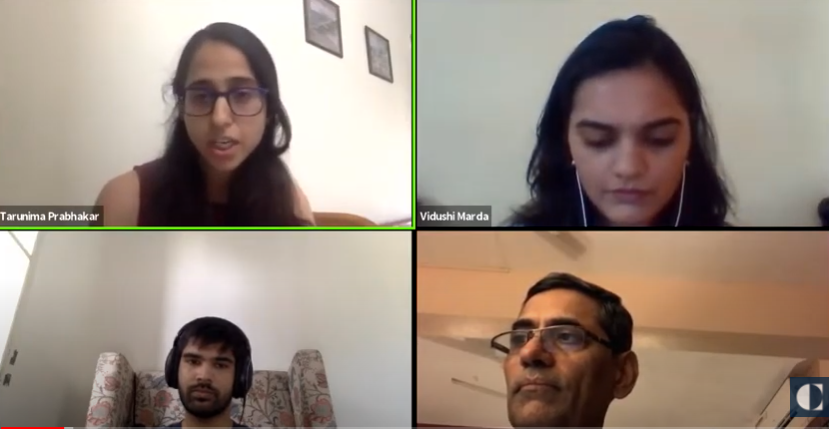 May 27, 2020
Expert Seminar on AI and Privacy
Invited by the Office of the UN High Commissioner for Human Rights to speak about the intersection of AI and privacy.
May 22, 2020
The Rise of COVID Surveillance and Facial Recognition
In a webinar hosted by Internet Freedom Foundation, I shared part of my findings from ongoing work on facial recognition in India.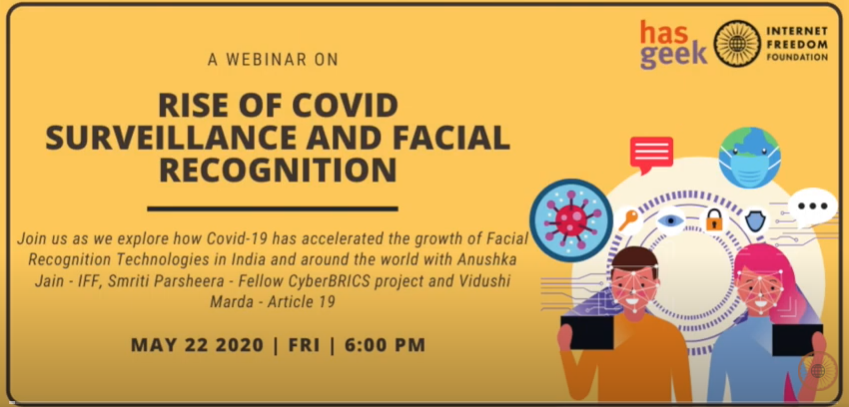 January 24, 2020
Knowledge Transfer on Facial Recognition in India
I held a workshop on introducing the state of facial recognition in India, with a focus on legal challenges and technical limitations. Vijay Gnanadesikan, CEO of FaceTagr responded to my presentation.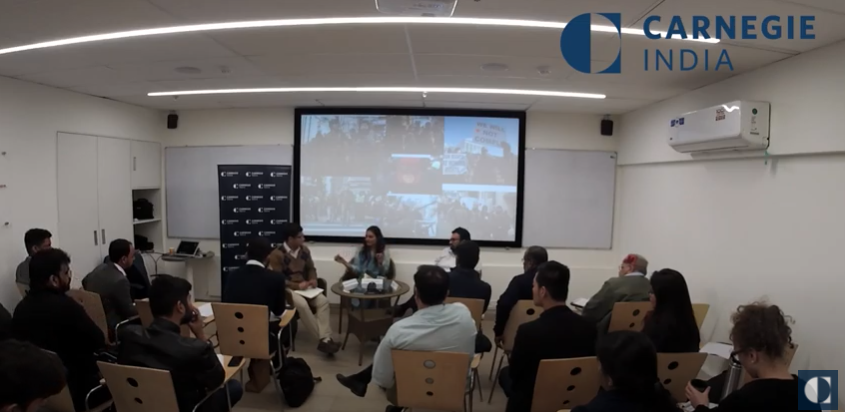 Show more
---
2019
December 10, 2019
Intercultural Digital Ethics
A workshop at Oxford University, hosted by the Digital Ethics Lab. My talk focused on the need for a deliberate, ground-up approach to context and culture in re: AI.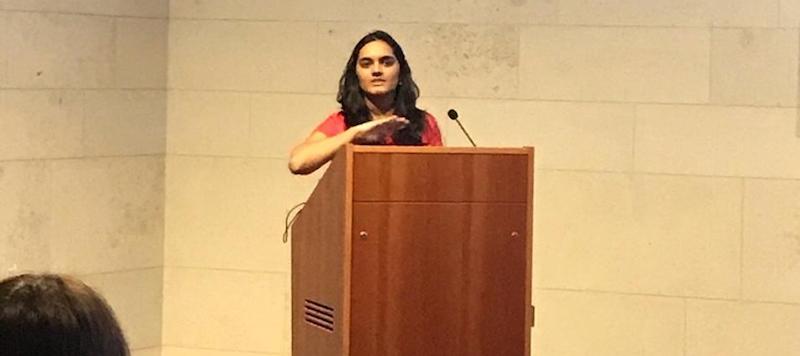 December 04, 2019
On AI, Law, and Foreign Policy
On invitation from Stiftung Neue Verantvortung, I delivered a talk & interactive Q&A on the foreign policy implications of AI, human rights, and technical standardisation.
December 03, 2019
Roundtable on the Ethics of AI, UNESCO
I joined Peter Paul Verbeek and Paula Boddington to talk about the use of AI for crucial decision making.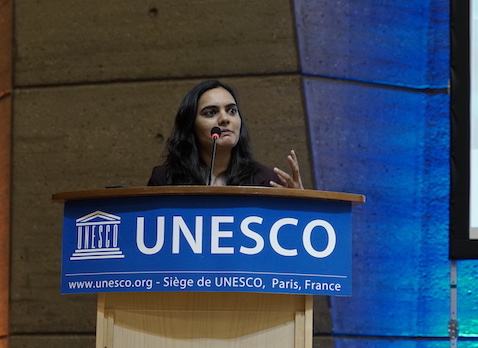 November 28, 2019
Beyond Ethics Councils: How to really do AI governance
In a panel at the Internet Governance Forum 2019, I joined Fieke Jansen, Bernard Shen and Corinne Cath-Speth to critique current AI governance approaches and suggest a way forward.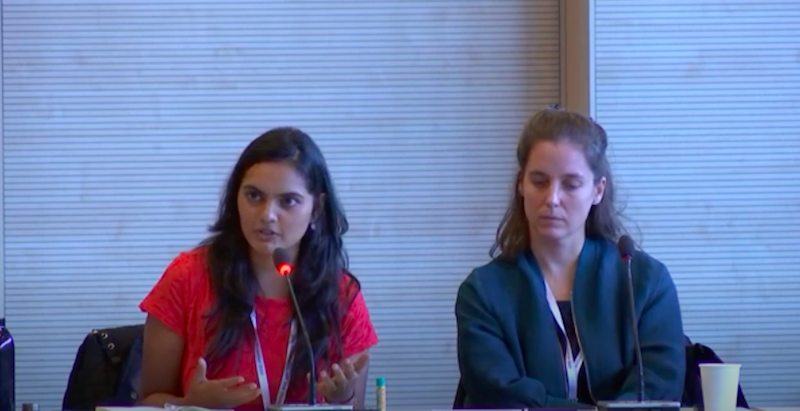 October 15, 2019
AI and Digital Rights at CocoNet II
At CocoNet II, organised by Engage Media, I held two sessions on AI for digital rights activists from South East Asia.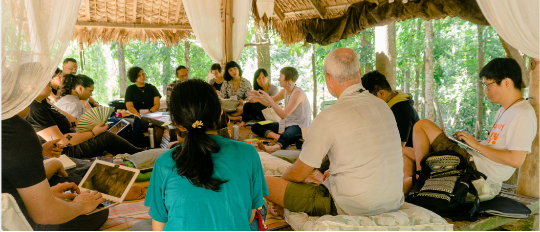 August 24, 2019
Persistence of Prejudice: On AI and Bias
At TEDxDUCIC, Delhi University. My talk covers the politics of machine learning, the social implications of its use, and questions to consider going forward.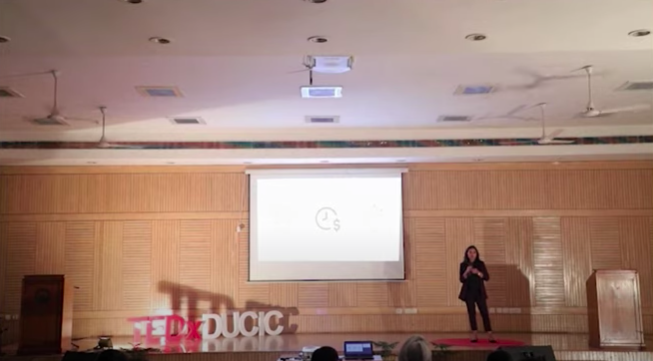 May 30, 2019
Transformative Constitutionalism in Asia
A workshop for former and sitting judges of constitutional courts in Asia, organised by Konrad Adeneur Stiftung. My talk focused on constitutional questions and challenges posed by emerging technologies like artificial intelligence.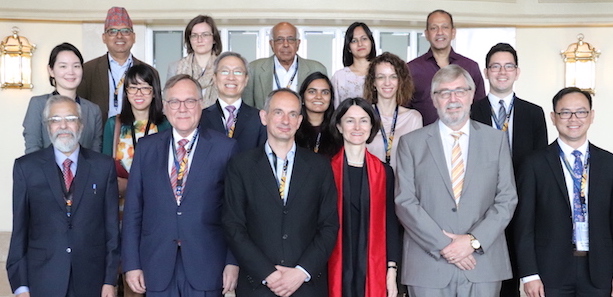 April 05, 2019
Regulating Data-Driven Finance
Participant at Dvara Research's annual workshop. My interventions focused on algorithmic models, data protection and protected characteristics in financial data.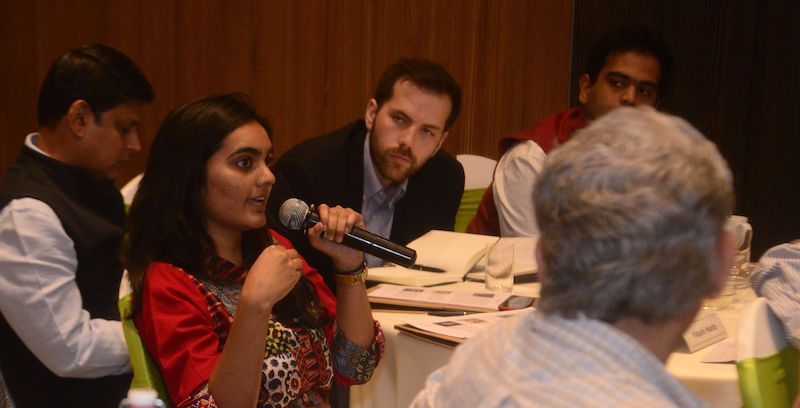 March 07, 2019
Human Rights in the Era of AI, Human Rights Council
Invited expert on the sidelines of the 40th session of the Human Rights Council. On a deliberate, human rights based approach to AI.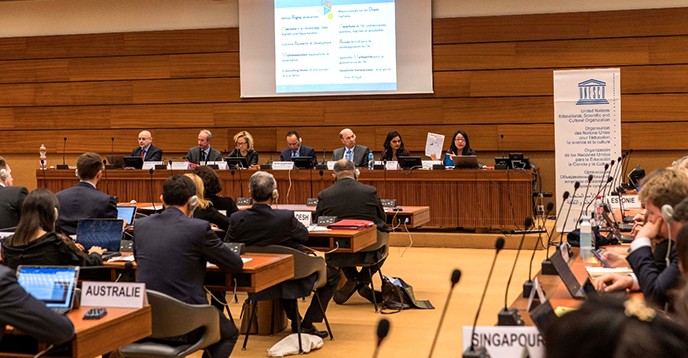 February 16, 2019
AI, Design and Ethics in India
Panelist at UNbox Festival, invited by Tandem Research.
January 17, 2019
Expert Consultation on Artificial Intelligence
Invited by UNESCO's World Commission on the Ethics and Science of Technology to provide expert input to the Commission's ongoing work.
January 11, 2019
Artificial intelligence policy in India: a framework for engaging the limits of data-driven decision-making
Talk based on my academic paper at Fairness, Accountability, Transparency/Asia organised by Digital Asia Hub.


Show more
---
2018
October 23, 2018
Artificial Intelligence: Impact on Privacy and Freedom of Expression
Presenter at an expert roundtable on the sidelines of 73rd Session of the United Nations General Assembly Third Committee.
New York, United States of America
October 05, 2018
In Pursuit of Autonomy: AI Policy and Ethics
Panelist at CyFy 2018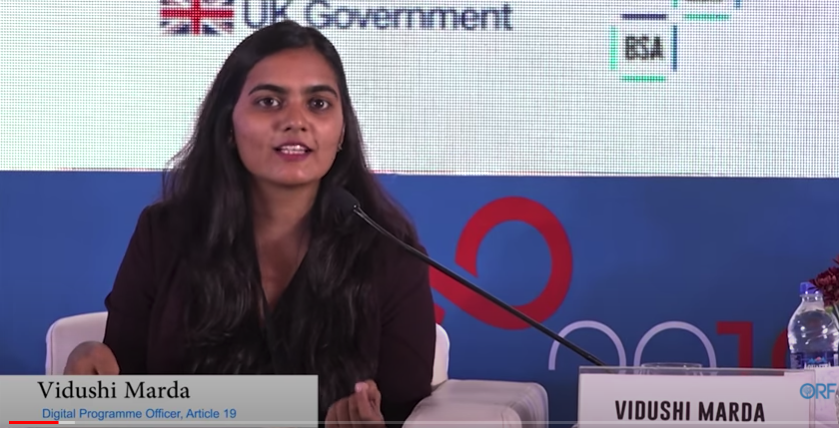 August 30, 2018
Impact of Data Privacy Bill on Data Processors and Users
Panelist at MediaNama's #NAMAprivacy event. My talk focused on how India's data protection bill does not engage with challenges raised by the increasing use of algorithmic models for consequential decision making in India.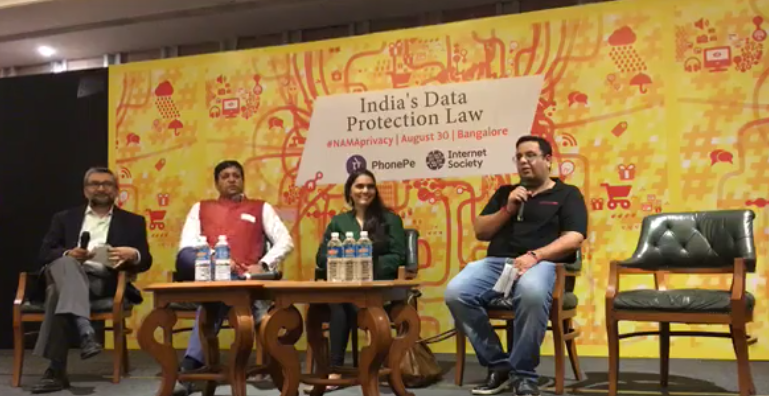 August 29, 2018
Applications of Artificial Intelligence in the Public Sector
Speaker on invitation from UNESCAP, Google, Berkman-Klein Center and Digital Asia Hub on the implications of AI systems in public sector decision making and public spheres of everyday life. I focused my talk on constitutional standards and State-citizen relationships.
June 18, 2018
Expert Consultation on AI & Freedom of Expression
Invited expert at a consultation held by David Kaye, UN Special Rapporteur on the Right to Freedom of Expression, to provide input on his 2018 report on AI & freedom of expression and the information environment.
April 27, 2018
Workshop on AI and Human Rights
Organised by Data & Society under Chatam House Rules.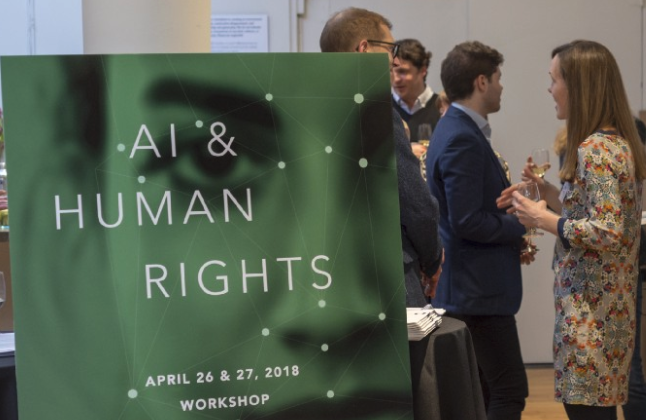 New York, United States of America
April 26, 2018
Global Milestones and Challenges to Freedom of Expression
Panelist and Participant at Columbia University's Justice for Freedom of Expression Conference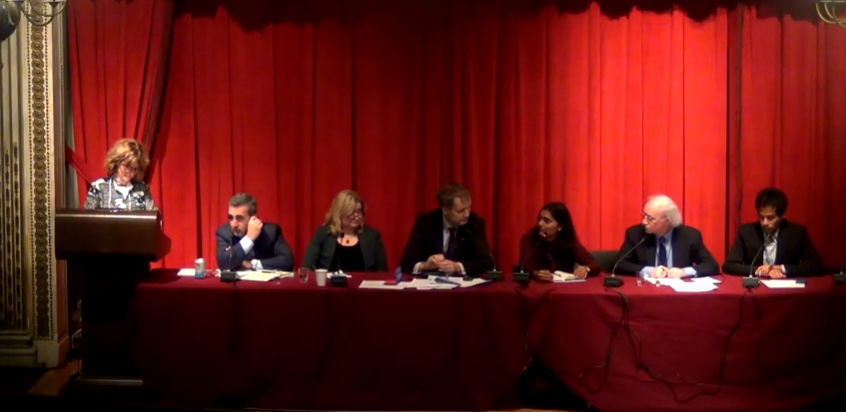 New York, Unites States of America
January 19, 2018
Artificial Intelligence, Ethics and the Law
Invited by the Oxford Internet Institute and the Alan Turing Institute to talk about framing the role of human rights standards vis-a-vis AI. I contributed to both the workshop and panel discussion.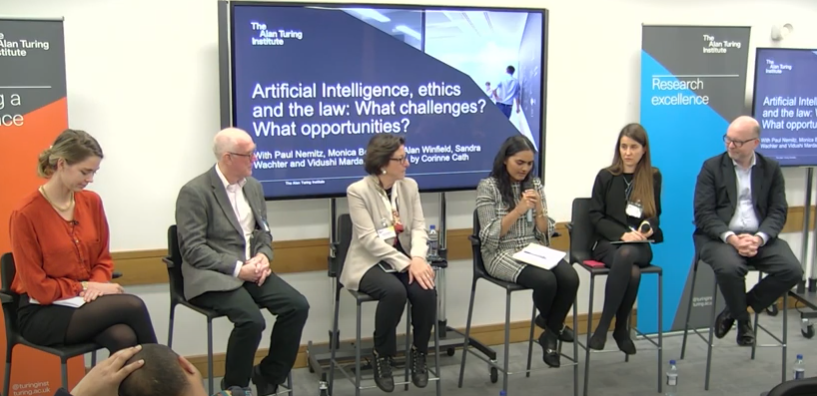 Show more
---